Information
Edit
Cereal is a wonderful thing, and everything wonderful needs to be graphed! So that's where I come in. Most cereals are delivered directly to your house by Mr. Cerealdeliverer.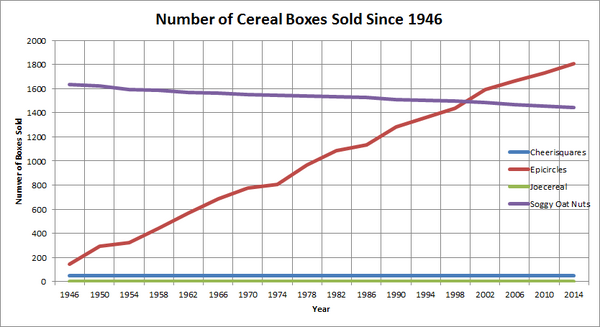 Here you can see the progress of the four main cereals in the Infinitiverse, which are
From what you can see on the graph,
Epicircles are on the rise,
Soggy Oat Nuts are on a slow but treacherous decline,
and Cheerisquares and Joecereal don't seem to be going anywhere.
From what you can't see on the graph, I can tell you that
Joecereal sells about 0-2 boxes every year.
Cheerisquares sell about 51-52 boxes every year.
Epicircles will sell a million boxes a year by 42328 and a billion per year in 40389561.
Soggy Oat Nuts will stop selling by 2590.