Description
Edit
Mr. Dinosaur is the oldest agent at the agency. He is 5th in command. He is also good at hide and seek (mostly at seeking, not at hiding). He usally uses power to win his battles, not stealth.
General Information
Height
43' 7"
Age

154000001

(154 million and one)

Gender
Male
Species

Apatosaurus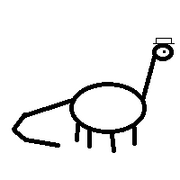 Character History
Edit
Mr. Dinosaur was one of the only dinosaurs that survived the dino apocalypse.
He joined the agency at age 153999986 and is still in it. He plays hide and seek for the last pizza slice every Thursday and usally wins.
Relevance
Edit
He is in the Animal Agents Agency.
He is a boss at Hide and Seek.
Community content is available under
CC-BY-SA
unless otherwise noted.